IMPORTANT NOTICE TO ALL UA CANADIAN LOCAL UNIONS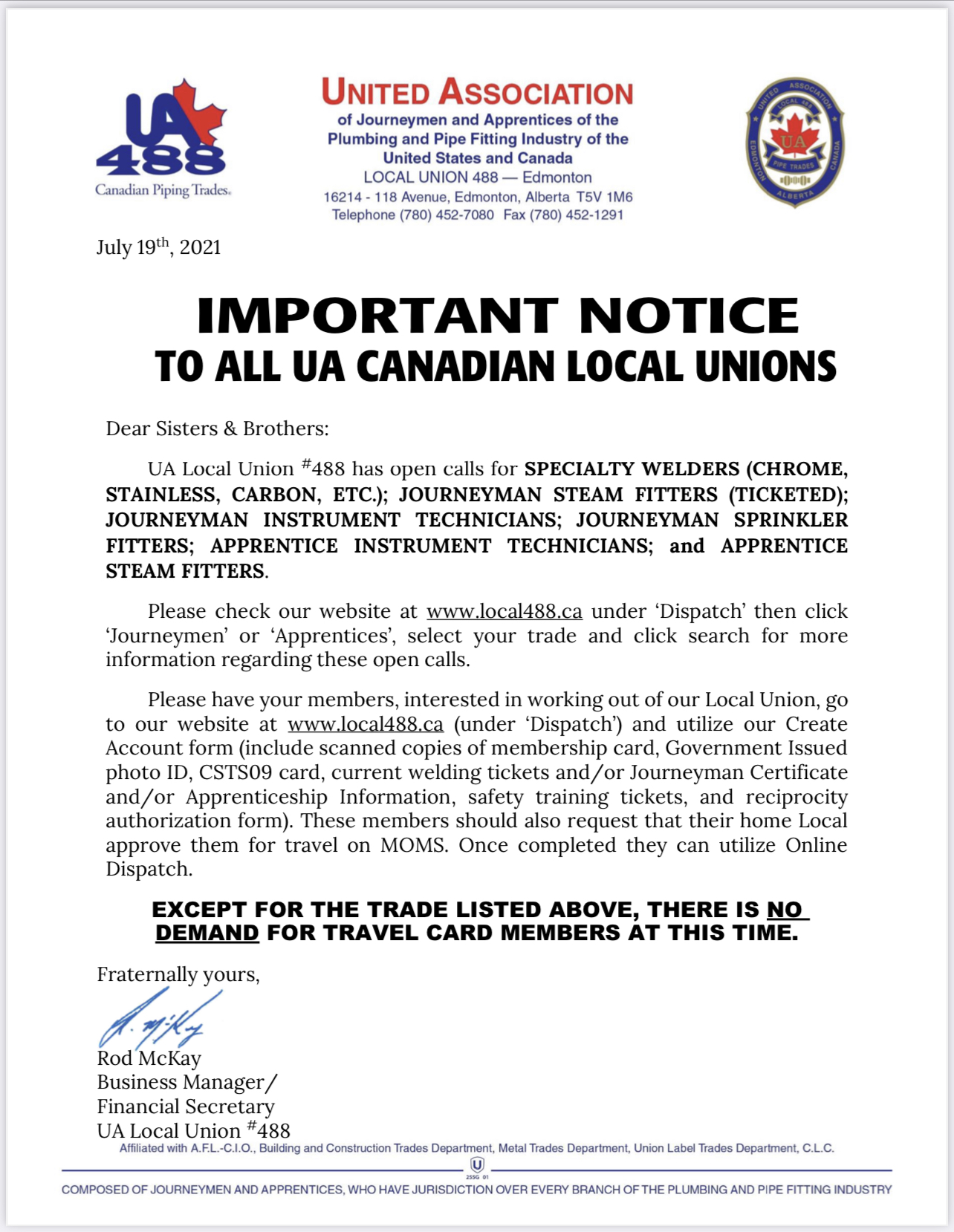 Posted on: July 19, 2021
Dear Sisters & Brothers:
UA Local Union #488 has open calls for SPECIALTY WELDERS (CHROME, STAINLESS, CARBON, ETC.); JOURNEYMAN STEAM FITTERS (TICKETED); JOURNEYMAN INSTRUMENT TECHNICIANS; JOURNEYMAN SPRINKLER FITTERS; APPRENTICE INSTRUMENT TECHNICIANS; and APPRENTICE STEAM FITTERS.
Please check our website at www.local488.ca under 'Dispatch' then click 'Journeymen' or 'Apprentices', select your trade and click search for more information regarding these open calls
Please have your members, interested in working out of our Local Union, go to our website at www.local488.ca (under 'Dispatch') and utilize our Create Account form (include scanned copies of membership card, Government Issued photo ID, CSTS09 card, current welding tickets and/or Journeyman Certificate and/or Apprenticeship Information, safety training tickets, and reciprocity authorization form). These members should also request that their home Local approve them for travel on MOMS. Once completed they can utilize Online Dispatch.
EXCEPT FOR THE TRADE LISTED ABOVE, THERE IS NO DEMAND FOR TRAVEL CARD MEMBERS AT THIS TIME.