Coronavirus (COVID-19) Advisory
Local 46 Facilities open by appointment only beginning Monday August 10, 2020.
Please review the UA Local 46 COVID-19 Policy here.

Visit https://www.ualocal46.org/election for all Election information. 

Resource Websites:
Ontario's List of essential workplaces
City of Toronto COVID-19 Information
Ontario COVID-19
Ontario Ministry of Labour
Health Canada
Canadian Emergency Response Benefit (CERB)
10/6/2020
Update on COVID Benefits
----------------------------------------------
7/2/2020
Please review the notice regarding the upcoming Local Union Election that was postponed due to COVID-19.
Click here to learn about the new temporary COVID-19 relief grants that are available to Local 46 members.
6/29/2020
We are greatly distressed to hear of recent racist and hateful actions that have taken place at worksites in the City where our members go to work to provide for their families. We're shocked by this type of behaviour and will not tolerate any members, regardless of racial or cultural background, being subjected to intolerant and harassing behaviour.

Read the full letter from Business Manager Robert Brooker here.
6/8/2020
Local 46 is proud to support the fight for justice and equality. We support the fight against racism and all forms of discrimination. We believe in equality for all marginalized individuals and groups. Please stand with us in solidarity and denounce systematic racism.
6/1/2020
Read Business Manager Rob Brooker's letter regarding COVID-19 Dues Relief and enforcement of UA Constitution sections regarding automatic suspension, loss of good standing and reinstatement.
5/29/2020
Local 46 announces charitable donations in partnership with partner contractor associations.
5/15/2020
Please see the update from Business Manager Robert Brooker regarding the opening of all construction projects as of Tuesday May 19 and the new Online Dispatch Request forms for Journeypersons and Apprentices located in the Member Area.

5/1/2020
Please see the update from Business Manager Robert Brooker regarding Local 46 Employment, Dues Relief and Canada Emergency Response Benefit (CERB)
4/17/2020
Please see the protocols that have been developed to maximize the safety of Clients and De Novo staff until further notice.

Mark's Commercial is excited to help United Association Local 46 members during COVID-19. Click here to login and get the details regarding the 10% discount code redeemable at marks.com.
4/16/2020
Supplementary Unemployment Benefit (SUB) update from the Local 46 Trustees
4/9/2020
Update on the Canada Emergency Response Benefit (CERB) and information regarding Local 46 Supplementary Unemployment Benefits (SUB)

4/4/2020
The Government of Ontario announced an updated and more restrictive list of essential services in an effort to combat the spread of COVID-19. Click here to review the memo from Local 46.
3/31/2020
How to Apply for EI during COVID-19
Construction Site Health And Safety During COVID-19
3/29/2020
Ontario Stepping Up Measures to Limit the Spread of COVID-19 on Construction Sites
3/26/2020
March 26 update of COVID-19
3/25/2020
View the OPTC letter to Premier Doug Ford
3/24/2020
March 24 update on COVID-19
3/23/2020
March 23 update on COVID-19
3/20/2020
Central Ontario Building Trades Request For Immediate Action RE COVID 19
March 20 update on COVID-19
3/19/2020
How to apply for EI and COVID-19 emergency benefits and COVID-19 update. 
Retirement Seminars scheduled for May have been cancelled.
3/18/2020
Economic Response to COVID-19
3/17/2020
Effective immediately the BPA office will be closed to all members of the public. Until further notice, only full-time staff will be permitted on the premises however Local 46 members may still reach them by phone or email.

3/15/2020
All Trade School and Night School classes have been suspended until further notice. Students will be contact with details in the coming days.

3/13/2020
The Local 46 Union hall is closed to members and the public. Only full-time staff and Officers will be permitted on the premises during business hours.
Cancelled Upcoming Events:
- UA Local 67 Hockey Tournament
- Union Meeting on April 8
- Local 46 Day at the Races on April 19
- Bike and Classic Car Ride on April 26
- Day of Mourning Wreath Laying Ceremony on April 28
- Retirement Seminars on May 2 and May 9
- Local 46 Picnic
- Local 46 Golf Tournament
----------------------------------------------
Please follow this link to review information provided by UA International, Local 46 and Health Canada.
Information regarding Training Department operations including Dispatching, Trade school and Night school can be found here.
----------------------------------------------
United Association Local 46 is a Toronto-based Union made up of over 9,000 highly-skilled Plumbers, Steamfitters and Welders. Our standards are the highest in the piping trades.
Founded in 1890, only 23 years after Confederation, we are the oldest United Association Union in Canada. 2020 marks our 130th year and over those years our members have been serving the Greater Toronto Area providing excellence in plumbing, welding and steamfitting.
We've helped Toronto grow from a population of just over 180,000 in 1890 to the 5.9 million person, world-class metropolis it is today. We're proud to have been an important part of Toronto's growth.
UA Local 46 has one of the most sophisticated training facilities and apprenticeship training programs in Canada.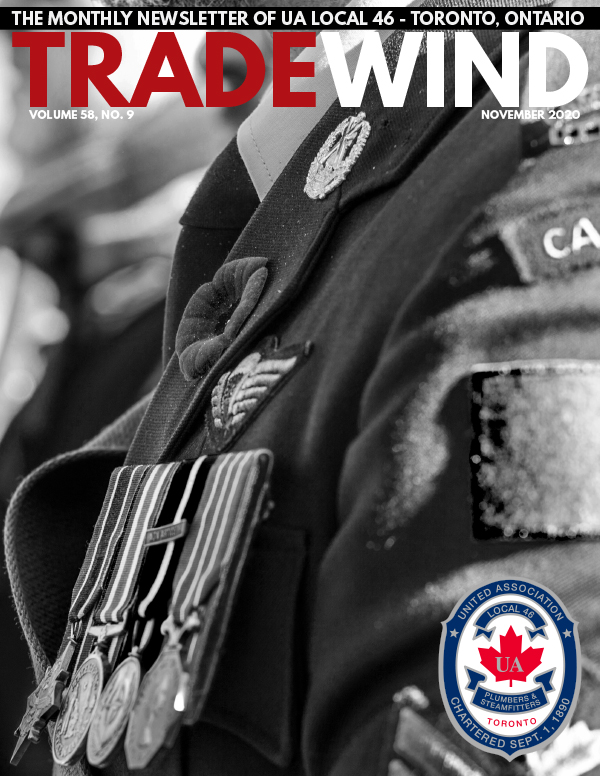 Check Out
The Tradewind Online
November 2020